Veldhuyzen Maasdam Cheese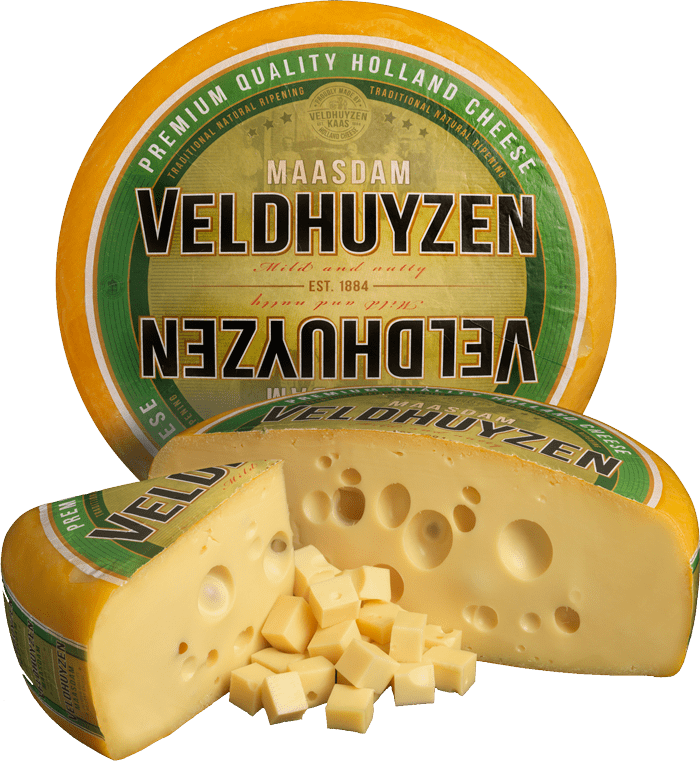 Veldhuyzen Maasdam Cheese from Holland (The Netherlands) is one of our most popular cheeses. This premium cheese that can be recognised by its big holes ("eyes" in specialist terms) and its sweet & nutty taste. Popular all over the world, the Veldhuyzen Maasdam cheese is made in The Netherlands according to a traditional recipe.
We can offer the Maasdam cheese in wheels and cheese slices. This cheese is export quality and thus suitable for export around the globe. Veldhuyzen Maasdam Cheese meets the highest international quality standards to ensure customer and consumer satisfaction.
Maasdam Cheese is produced with a special and traditional starter culture which makes the holes in the cheese making process. The cheese wheels is made in a traditional way. When a maasdam cheese is put in the maturation chambers, the special starter culture triggers the formation of holes in the cheese. After 7 weeks the holes and taste are at the optimal level for consumption and the cheese is packed.
Veldhuyzen Maasdam cheese from Holland (The Netherlands) is very popular for slicing, either straight from the wheel in a deli counter, or as prepacked slices, which we have available from 150gr per unit.
Interested in our Veldhuyzen Maasdam Cheese? Please contact us for all options and information.