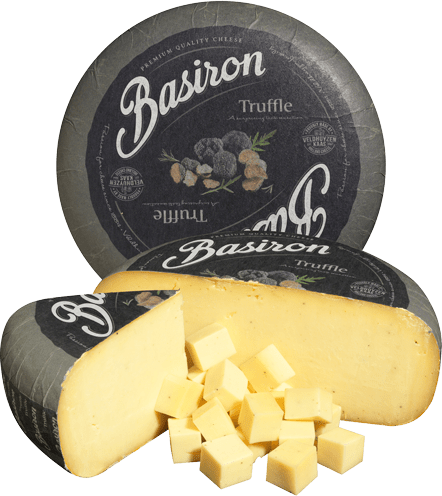 Basiron Truffle is a very creamy cow milk cheese, flavoured subtly with small pieces of delicious black summer truffle. Due to its 6 weeks maturation truffle and cheese are perfectly balanced. Basiron Truffle is excellent to serve as a snack but also very suitable for culinary adventures, for instance grated over any kind of dish.
Please check out the rest of our exciting Basiron assortment, consisting of 19 delicious cheeses!
Basiron, the most exciting cheese brand in the world.
Delicious recipe:
number of persons: 4
Time to prepare: 20 minuten
Toastie with truffle cheese and radicchio salad
Lunch or dinner · No meat/no fish · Cooks in 20 minutes · Serves 4
Cheese: Basiron Truffle