Veldhuyzen Edam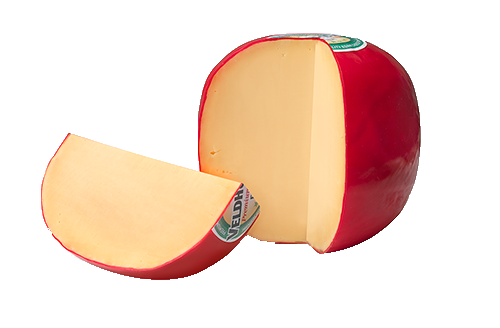 Edam Cheese from Holland
Edam Cheese from Holland is the world famous basic and accessible Dutch cheese which usually comes in the shape of a ball. Edam cheese is matured for at least 4 weeks ensure its optimal taste. We then export the best Edam cheeses and specialty cheeses around the globe.
For more info and wholesale inquiries, please contact us at info@veldhuyzenkaas.nl.
Veldhuyzen Kaas (MAAZ Cheese) is 100% focused on the export of the largest and complete assortment of cheeses from Holland (The Netherlands). Our focus, assortment, partnership approach, knowledge and experience are our key USP's in making our cheese export business a success. We have a dedicated team of cheese export professionals, both in sales and in our support office, that make sure we meet and exceed our customer's expectations.
Edam Cheese assortment
Veldhuyzen Kaas (MAAZ Cheese) offer the best Edam Cheeses, ranging from bulk rindless blocks to Edam cheese specialties.
Our warehouse stocks 12.000 tons of cheese.
Our Edam assortment consists of:
- Edam ball 0,9kg
- Edam ball 1,9kg
- Edam rindless loafs 3kg
- Edam rindless blocks 15kg
- Edam cheese slices 150gr
For more info, please contact us at info@veldhuyzenkaas.nl.